COLOR CHOICES
Glaze colors vary firing to firing, not to mention variations in photo exposures, therefore a few examples are given with each color to show the variations.
Also keep in mind when choosing more than one color, contrasting light-dark colors work the best. There are a couple terms I'll be using and some information about glazes that could be helpful in choosing your glaze color:
--------
"Breaking" refers to a glaze that turns darker on the high points like rims, handles, decoration and 'throwing rings' (finger marks made in the clay from throwing on the wheel) or where glaze is applied thinly. Breaking glazes have depth, beauty and interest, but not all glazes break. Among my glazes that break are the "washed glazes", rust and the opal.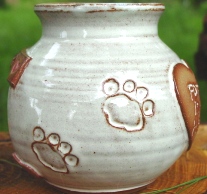 Transparent glazes look more like 'glass'as if you can almost 'see' through the glaze, often these are the glazes that 'break' and are glossy.
Opaque glazes are more dense, richer in color and have a beauty of their own. My opaque glazes are deep blue, deep green, rust, white & black.
STAINED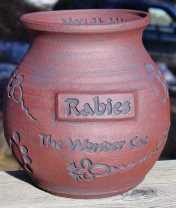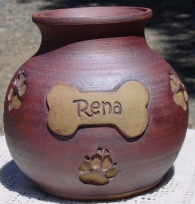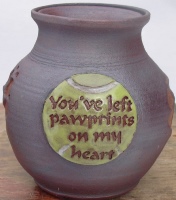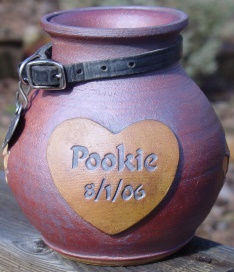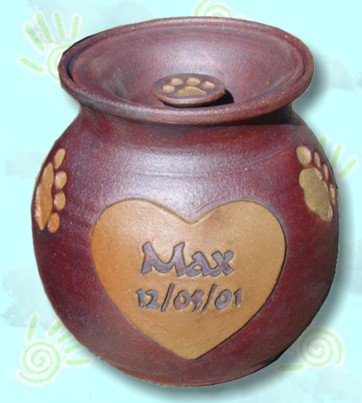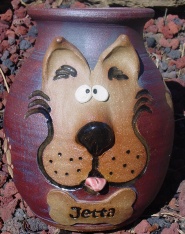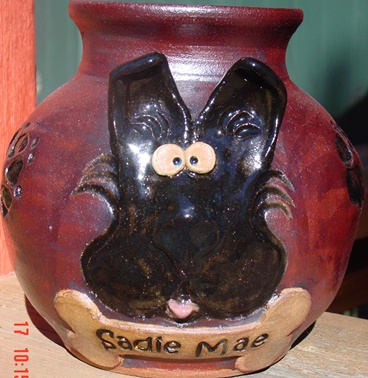 This is the only color that isn't actually a glaze, it's an iron oxide stain, therefore what you are actually looking at is the natural clay coming through. This technique gives a more earthy quality to the peice and isn't glossy, but a matte finish and slightly rough to the touch for the difference here between a stain and a glaze is that a glaze actually melts to the pot creating a glass-like finish. So if you like the color but would prefer that kind of finish, you might opt for the rust glaze instead of the stained effect.

The combination of glaze and stain is a nice contrast, like these examples above.
RUST
This glaze will fluxuate or "flush" brown to rust giving some interest to the pot or urn. I'm heart broken, I lost the rust red and now it's more brown like Bartleby example. I'm working at restoring the rusty red, holding my breath...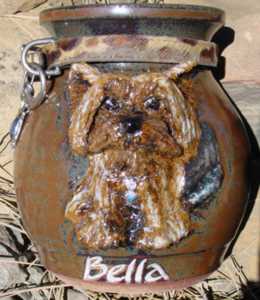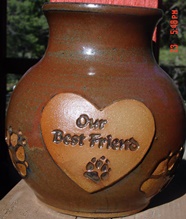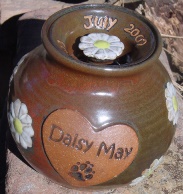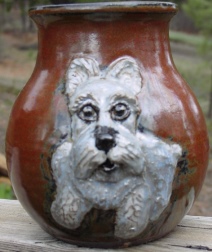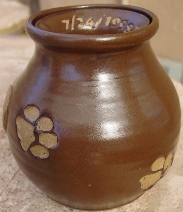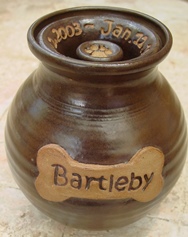 These urns below have another color dripped over to give this unique effect.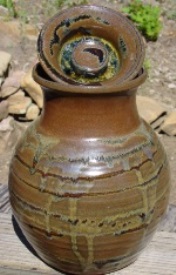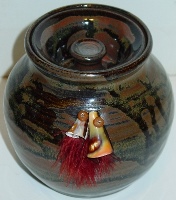 WASHED BLUE
This is one of the most popular of my glazes for it "breaks" and fluxuates according to how thickly the glaze is applied.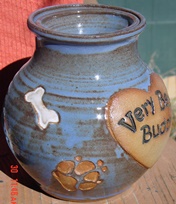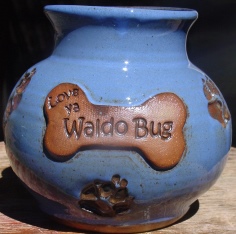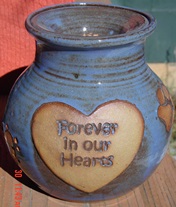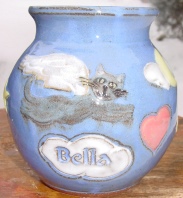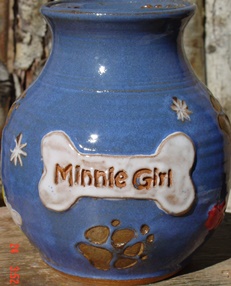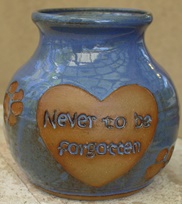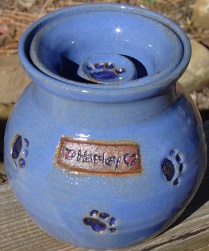 WASHED GREEN
This glaze breaks and fluxuates the same as the other washed glazes depending on the thickness of the glaze application.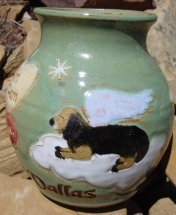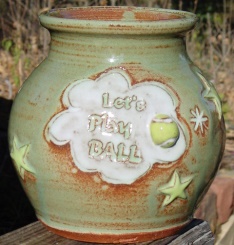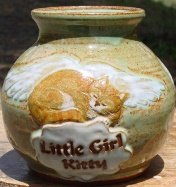 WASHED WHITE
This is a white glaze that breaks to brown, the thinner the application, the more hints of brown so throwing rings or stamped images show up well as glaze is slightly transparent as well.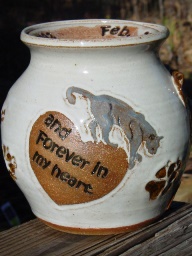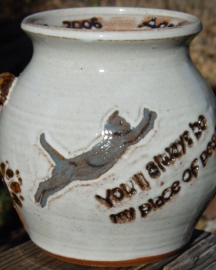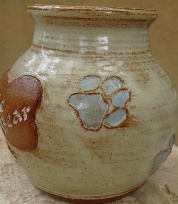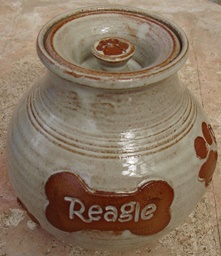 BRIGHT WHITE
This white is similar to the washed white only it's a little more of a consistant white and it doesn't break to brown, more opaque.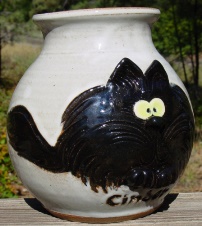 DEEP BLUE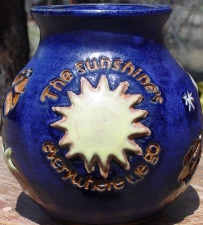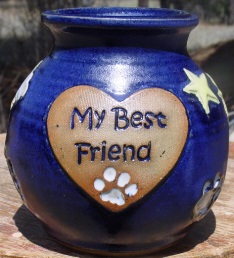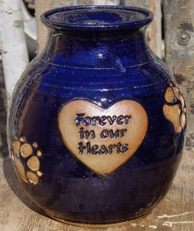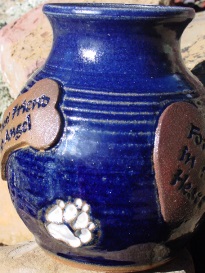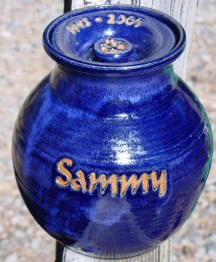 DEEP GREEN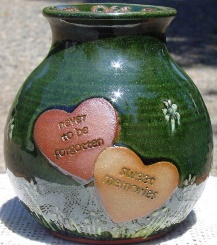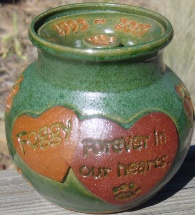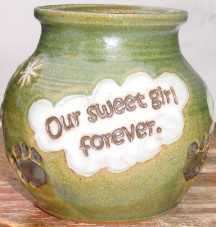 LIGHT TAN
The tan glazes are merely clear glazes on two different colored clays.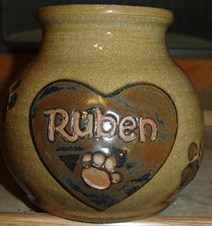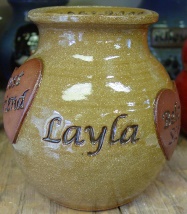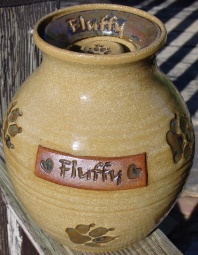 DARK TAN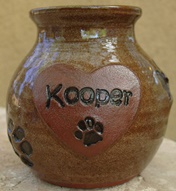 OPAL
A pretty glaze, jazzier than my White Glaze, with slight hints of purplish-pink and slight breaking and a little runny, does interesting things when a little thick or overlapped with another glaze.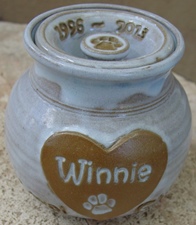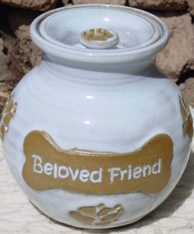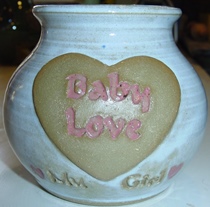 BLACK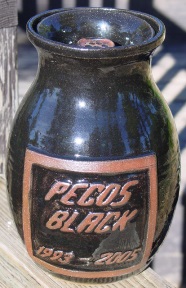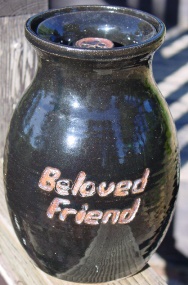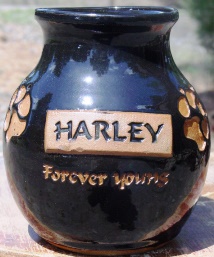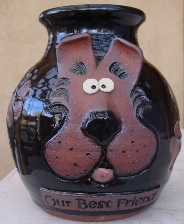 Back to Cheers' Pottery Custom Pet Urns